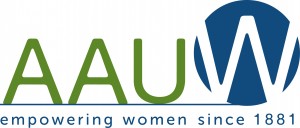 AAUW is a community that breaks through educational and economic barriers so that all women have a fair chance.  AAUW's mission is to advance equity for women and girls through advocacy, education, philanthrophy and research.
Membership is open to anyone holding an associate or equivalent (RN), baccalaureate or higher degree from a regionally accredited college or university.  Members of the Gloucester County area branch live or work in Gloucester County NJ or the surrounding area.  For information on joining us please contact Connie LaBelle at edlabelle@comcast.net.
In addition to supporting national initiatives, the Legal Advocacy Fund and  the Education Foundation, our branch awards scholarships to young women graduating from high school and to women completing their education after a period of time out of school.
AAUW values and seeks a diverse membership. There shall be no barriers to full participation in this organization on the basis of gender, race, creed, age, sexual orientation, national origin, disability, or class.
About Us
Branch Initiatives
Interest Groups
Members Only